Günther Benjamins
Historical Ancestors > Yat Chum > Cheung Ng (Tan Sao Ng) > Leung Yee Tai > Dr. Leung Jan (Leung Tak Wing) > Chan Wah Shun > Ip Man 葉問 (Yip Gai-Man) > Leung Sheung 梁相 > Leung Ting 梁挻 > Keith Ronald Kernspecht > Lothar Hirneise > Günther Benjamins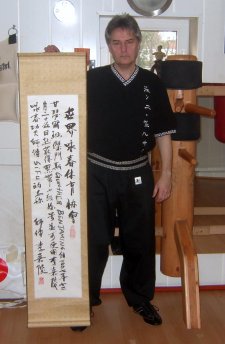 Bio Info:
I practice Ving Tsun since 1979 under different lineages like WSL, Yip Chun. I am a member of Ving Tsun Athletic Association and Authentic Ving Tsun Association / Hong Kong.
Sifu Günther Benjamins practiced Ving Tsun / Wing Tsun since 1979 and teaching since 1988. In this time he learned by Sifus / Masters of several lineages. Today he is the President of the Ving Tsun Academy Europe (VTAE), the European representative for the WVTAA and he is the Executive Vice President for the WVTAA, Permanent Member of the Ving Tsun Athletic Association / Hongkong (VTAA) and Lifetime Member of the Authentic Ving Tsun Association / Hongkong. He holds the rank of 7th Degree Black Sash under the WTAA distance learning program.
Read more
Bio (con't)
Sifu Benjamins originally learned Wing Chun from Lothar Hirneise & Klaus Pertl, who are most famous for writing a German Wing Chun book in the 80's that first compared the different lineages (mainly what was seen in Europe at that time compared to China). Hirneise retired after a few years and Sifu Benjamins eventually sought out other teachers to train under.
Last updated: Nov 10, 2011