James W DeMile
Historical Ancestors > Yat Chum > Cheung Ng (Tan Sao Ng) > Leung Yee Tai > Dr. Leung Jan (Leung Tak Wing) > Chan Wah Shun > Ip Man 葉問 (Yip Gai-Man) > Bruce Lee 李小龍 > James W DeMile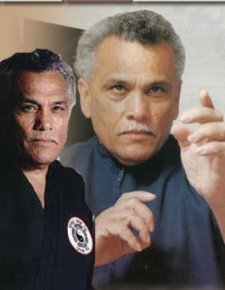 Bio Info:
One of Bruce Lee's early Students, pre JKD. Teaches "Wing Chun Do".
Read more
Bio (con't)
In 1959, James W. DeMile began his martial arts career in Seattle, Washington, under the direction of the legendary Bruce Lee. As one of Bruce's first generation students, DeMile had the opportunity of assisting Bruce in developing his unique fighting skills. It was also DeMile's privilege to appear in Bruce's only book, "The Philosophical Art of Self Defense". DeMile was an undefeated heavyweight boxer in the Air Force as well as a "Masters Level" hand to hand combat instructor for the Special Forces Combative's program at Fort Lewis in 1985 and 1986.
One of the foremost authorities on modern Wing Chun, DeMile has adapted Bruce's modification of the ancient art of Wing Chun and created WING CHUN DO, a practical self defense system for today's student. DeMile is listed in Bob Wall's Who's Who in the Martial Arts, The Genealogy of the Ving Tsun (Wing Chun) Family by the Ving Tsun Athletic Association, The Original Martial Arts Encyclopedia by John Corcoran and Emil Farkas, and Bruce Lee's Fighting Spirit by Bruce Thomas. He has also written many articles for national and international magazines. He has appeared in the movies, Weapons of Death and The Curse of the Dragon and twice on the national TV program Entertainment Tonight. He has written four best selling martial arts books as well as produced a number of training videos, including Bruce Lee's One and Three Inch Floating Punch, one of the most devastating strikes in the martial arts.
He has designed and built a number of specialized electronic training devices as well as some versatile spring loaded wooden dummies. DeMile travels extensively throughout the world teaching his dynamic self defense concepts and techniques to students, police and the military. He specializes in accelerated self defense programs for individuals 40 years old or older. His most famous student for learning the incredible One and Three Inch Floating Punch is 90+ year old Professor Wally Jay, creator of Small Circle Jujitsu. DeMile is still an active Deputy Sheriff with the Ottawa County, Ohio, Sheriff's Department until 2005.
Last updated: Sep 21, 2011