Michael Keheshian
Historical Ancestors > Yat Chum > Cheung Ng (Tan Sao Ng) > Leung Yee Tai > Dr. Leung Jan (Leung Tak Wing) > Chan Wah Shun > Ip Man 葉問 (Yip Gai-Man) > Leung Sheung 梁相 > Leung Ting 梁挻 > Keith Ronald Kernspecht > Stefan Fischer > Michael Keheshian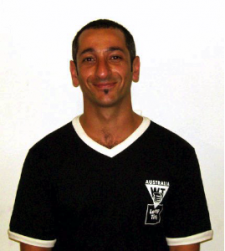 Bio Info:
Si-Hing Michael Keshishian has been training Wing Tsun since 2002. He is an instructor and a full-time student under Si Fu Stefan Fischer.
Michael began training in the martial arts at the age of 15, studying Tae Kwon Do for a short time. In 1989 he embarked on a 5 year course of study in Traditional Chinese medicine, Acupuncture and Herbal Medicine. As part of this course, Michael trained kung fu (and continued this training for over a decade), Tai Ji (for 6 years) and Judo (for 2 years).
Read more
Bio (con't)
Then, in 2002 Michael came across the book "On Single Combat". Having read the book, and with his interest and curiosity thoroughly enlivened by Grandmaster Kernspecht's elegant elucidation of the principles of combat, Michael began his training in Wing Tsun. Within in a few months of training Michael was left in no doubt where his martial arts calling lay. In mid 2004, Michael decided to take his training and commitment to Wing Tsun to a higher level, becoming a full-time student of Master Stefan Fischer, and traveling regularly to Sydney to train under him. Michael is also an accredited Level 1 coach with the National Coaching Accreditation Scheme (NCAS) through the Australian Sports Commission, and runs his own Traditional Chinese medicine practice which has been in operation for over a decade. Michael very much looks forward to sharing the art of Wing Tsun with his students.
Last updated: Mar 3, 2012