Wing Chun Kung Fu Studio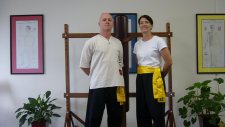 | | |
| --- | --- |
| Website: | Wing Chun Kung Fu Studio |
| Address: | 118 South Pine Road |
| City: | Brisbane |
| State/Province: | QLD |
| Zip: | 4500 |
| Country: | AU |
| Phone: | 07 3205 3977 |
| Directions: | Map it |
Contact Email
kungfustudio@wingchunkungfu.net.au
Description & Hours of Operations
Wing Chun Kung Fu Brisbane Come and learn the Traditional system of Wing Chun Kung Fu as taught to the Direct Descendant of Yip Man, "Grand Master William Cheung"
Learn the world's most effective selfdefence based martial art.
Simple, Scientific, Effective.
Suitable for all body types men, women and children.
The Natural way to peak physical and mental fitness.
Achieve focus, increase co-ordination and flexibility.
Professionally run classes, friendly training environment.
Full time School teaching Traditional Wing Chun Kung Fu.
Open 5 days a week.
Contact - Paul and Dianne at the Wing Chun Kung Fu Studio Brisbane. Phone - 07 3205 3977 Email -
kungfustudio@wingchunkungfu.net.au
Last updated: Jan 13, 2012