Help Kickstart the first Video Game to teach Wing Chun
Help Kickstart the first Video Game to teach Wing Chun -
If you have not seen Kung-Fu Superstar, then click this link and checkout the trailer! It even includes some comments from Grandmaster William Cheung (around the 6 min mark). This is a XBox Kinect game that basically teaches you Wing Chun as you play. Very cool.
Right now the guys making the game need to raise £200,000 in 1 month to get this game funded – otherwise it will be shelved… and we definitely don't want that. Please follow the link and check the game out – if you feel it is worth getting made, then please pledge some support.
Here is the official press release:
[This unedited press release is made available courtesy of Gamasutra and its partnership with notable game PR-related resource GamesPress.]
Oct 31, 2012 (Guildford, UK) —Kinesthetic Games is to take their innovative fighting game, Kung Fu Superstar™, to Kickstarter, as the platform opens its doors to UK based projects .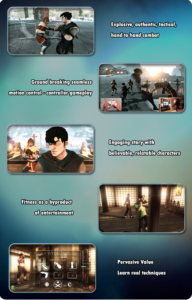 After an announcement that turned heads across the games, movies and martial arts worlds back in May 2012, the team at Kinesthetic are now taking their ground breaking "martial arts stuntman simulator" to the world's most popular crowd funding platform. With exciting new gameplay footage and previously unannounced details on the game, their Kickstarter pitch video aims to give fans of fighting games the ultimate experience they've long been waiting for. Aptly, as the game tackles core themes from games, movies and martial arts, key people from these worlds share their thoughts on the project in the video
22Cans Creative Director Peter Molyneux , shares his thoughts on the exciting beginnings of the project and the pedigree of the team behind it.
Martial Arts Stuntman and Fight Choreographer, John Kreng, shares his excitement about a game that lets you live your Kung Fu movie fantasies in the most accurate, fun and immersive of ways.
While long time training partner and friend of Bruce Lee and student of legendary Kung Fu Grandmaster Ip Man , Grandmaster William Cheung , talks about how the benefits of playing a game like Kung Fu Superstar™ reach far beyond just entertainment.
Announcing the launch of the Kickstarter campaign for Kung Fu Superstar Game Director, Kostas Zarifis said: "We are building Kung Fu Superstar to be the most innovative fighting game you've ever played. The Kickstarter model and the direct way in which it connects creators with their audience comes as a very welcome alternative to the standard way of taking projects off the ground, especially for radical projects like ours. We are continuously pouring a lot of love and hard work into this project and while the process of putting it out there for people to effectively judge it with their money is a stressful and somewhat scary one, ultimately we're very excited to be doing it and optimisti c that the results of our work and the ambition of our vision will resonate with the community."
As the Kickstarter campaign for Kung Fu Superstar™ kicks off to a spectacular start, the team at Kinesthetic Games promise that this is only the first of 30 days that hold a lot of exciting surprises!
For the Pitch Video and details on the campaign, please visit the project's Kickstarter page at: http://www.kickstarter.com/projects/kostaszarifis/kung-fu-superstar-become-the-ultimate-martial-arts
About Kung Fu Superstar™: Kung Fu Superstar™ is the world's first motion control enabled action game, where the fighting employs real martial arts techniques. Players will relive the epic journey of Danny Cheng, a young aspiring martial artist, as he rises through the ranks of international fame and stardom. Aided by his trusted Sifu, Danny will discover the secrets of Kung Fu and become the most popular martial arts stuntman Hollywood has ever known.
In a ground-breaking rethink of fighting games, players will use their full body or a controller to learn authentic martial arts techniques and level up Danny's fighting abilities, as they improve their own knowledge of Kung Fu. Players then put their skills to the test on the movie set, where Danny takes part in dramatic fight choreographies and performs in explosive action sequences. With multiple movie sets and plots to explore, colourful characters to be met along the way, Danny's own overarching storyline, as well as a platform for learning real martial arts in a fun and engaging way, Kung Fu Superstar™ will open up a world of possibilities to players of every background.
For more information on the game, including the Kickstarter pitch video and announcement trailer, please visit the official site athttp://www.kungfusuperstar.com
The post Help Kickstart the first Video Game to teach Wing Chun appeared first on Everything Wing Chun Blog.