Tim Stanbridge
Historical Ancestors > Yat Chum > Cheung Ng (Tan Sao Ng) > Leung Yee Tai > Dr. Leung Jan (Leung Tak Wing) > Chan Wah Shun > Ip Man 葉問 (Yip Gai-Man) > Wong Shun Leung 黃淳樑 > Clive Potter > Tim Stanbridge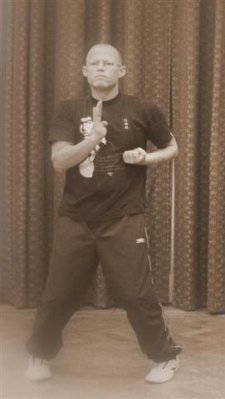 Bio Info:
Tim first started on his martial arts journey like a lot of young kids watching Bruce lee films and the karate kid films. Tim's first taste of martial arts is when his dad took him and his older brother down to the local judo club in the late 70s. Also in his teenage years he started boxing at the local boxing club in luton.
Read more
Bio (con't)
But in 1985 he was introduced to his first wing chun teacher sifu Brain Desir which even to this day he has the full most respect for he trained with Brian for approx one and half years which in that time he took a couple of grading at the London headquarters of Master Austin Goh. Then Tim had a break from martial arts due to work commitment i.e. studying (college) then married life and raising a family.
So in 2003 I wanted to start back on my Wing Chun path. I was then very lucky to meet up with and train with a local Sifu. I attend his classes on a regularly bases and trained very hard. I found that he had a great understanding in the wing chun system and I believe taught this to a very high standard. I made some great friends at this club. My main training partner and friend at the time was William Fullick my (kung fu brother). We together put in many long hours of hard training away from the club and attended numerous seminars together training with the likes of (David Peterson, Alan Gibson, Nino Bernardo, Master Tong Liu, Sifu Patrick Leung) if it was not for him I would not be were I am now in my wing chun development.
So in 2008 Tim was awarded his Assistant Instructor certificate. Tim had been instructing at the club now for just over 3 years so in 2010 Tim achieved his lifetime's ambition and opened up his own club Hertfordshire Wing Chun. While now teaching I am also continuing my own training and development under the guidance of Sifu Clive Potter and Adam Cope (Wong Shun Leung Ving Tsun Kung Fu Association uk.). On the 4th August 2011 Tim was awarded his Instructors Certificate by Sifu Clive Potter. I would like to thank all my wing chun teachers for what they have all taught and passed onto me and helped me in my wing chun journey. I haven't much official status other than that. I hold no "levels, ranks, or titles." The titles "Master" and "Grandmaster" should not be claimed lightly. I can say that I will be your Sifu. Judge not me, but what I know. Come and see for yourself how the Wing Chun system works. A teacher is not judged by how good he is, but by how good his students are. Tell me and I will forget, show me and I will remember, teach me and I will learn."
Born: Jan 2, 1968
Last updated: Sep 19, 2011