Andrew Dasz (Moy Hei Lock)
Historical Ancestors > Yat Chum > Cheung Ng (Tan Sao Ng) > Leung Yee Tai > Dr. Leung Jan (Leung Tak Wing) > Chan Wah Shun > Ip Man 葉問 (Yip Gai-Man) > Moy Yat > Leo Imamura (Moy Yat Sang) > Andrew Dasz (Moy Hei Lock)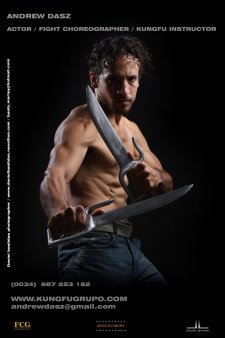 Bio Info:
Born in Buenos Aires, Argentina.
Read more
Bio (con't)
He started training Traditional Chinese Kung Fu in two different schools, "Wu Shing", headed by Horacio Di Renzo and "Chin Wan" by Claudio Di Renzo, focusing mostly in Hung Gar Kuen, Ving Tsun and others styles of Kung Fu.
Andrew went on to attend Moy Yat Ving Tsun Martial Intelligence in Sao Paulo (Brazil), where he studied Ving Tsun Kung Fu for 7 years.
He moved to Madrid (Spain), to start to work at a Fight Choreographers Group when he was 27 years old, with his twin brother. His acting career began when he was in Buenos Aires (Argentina), for a couples of months in 2005, with some acting and model courses. Then Andrew decided to start a new life acting and martial art/action fight scenes (fight choreography).
Right now living in Hong Kong, continued learn and teach Ving Tsun Kung Fu, also as a Personal Trainer and Actor/Fight Choreographer.
Born: May 29, 1977
Last updated: Dec 23, 2011