Moy Yat
Historical Ancestors > Yat Chum > Cheung Ng (Tan Sao Ng) > Leung Yee Tai > Dr. Leung Jan (Leung Tak Wing) > Chan Wah Shun > Ip Man 葉問 (Yip Gai-Man) > Moy Yat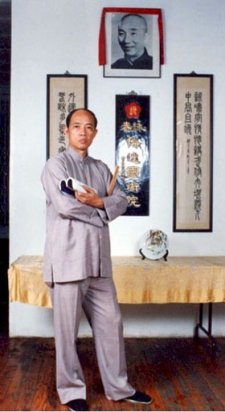 Bio Info:
Trained '57-62 to become a Sifu under Yip Man, he then opened a school. Carved the Kuen Kuit into blocks and was a artist, author, and calligrapher. Moy Yat has one of the largest Wing Chun organizations in the USA.
Moy Yat (Moy Yit Kai) was born in a Chinese town called Toi Shan in the province of Canton. In 1953 his family moved to Hong Kong. He began his study of Ving Tsun Kung Fu under Yip Man in 1957 and was a frequent companion as well as a dedicated student.
Read more
Bio (con't)
At the age of twenty-four, Moy Yat became the youngest Ving Tsun sifu. In 1967 he carved the Kuen Kuit into stone to preserve the knowledge and history of Ving Tsun.
After Yip Man's death, Moy Yat moved to New York City and began teaching there until he retired from teaching at age 60.
He was very well known and respected as a Master of Ving Tsun and also as a highly skilled calligrapher, painter, stone seal maker, and master of massage. He was a pioneer in the field of ear acupuncture, discovering and mapping new points on the back of the ear which are now being used by acupuncture doctors throughout the world. His kung fu students number in the thousands, and many of the well-known Ving Tsun sifus were once his students.
Master Moy Yat passed away on Tuesday, January 23, 2001. His funeral was held at Cheung Sang Funeral Home in New York City on Saturday, February 3, and he was lain to rest the next day at Kensico Cemetery in Valhalla, New York.
After Moy Yat's death, William Cheung, Grandmaster of his own "Traditional Wing Chun Kung Fu" organization said: "The death of Moy Yat is a great loss not only to the martial art of Ving Tsun, but also to the world. He was a very learned man, a good painter, poet, artist and a gentleman. This is a great loss to Chinese culture"
Moy Yat was the author of six books:
108 Muk Yan Jong
Ving Tsun Kuen Kuit
A Legend of Kung Fu Masters
Dummy: A Tool for Kung Fu
Ving Tsun Trilogy; and
Luk Dim Poon Kwan.
Ving Tsun Kuen Kuit includes prints of Moy Yat's famous stone carvings of the history, lineage, and major principles of the style of Ving Tsun Kung-Fu.
There are also approx 40 poor-quality VHS video tapes collected by the Ving Tsun Museum of Moy Yat's seminars hosted there.
Biu Je - A seminar on the third Ving Tsun form.
Centerline - A discussion of centerline theory.
Chi Sao I - A lecture and demonstration of the Ving Tsun "sticking hands" drill.
Chi Sao II - A lecture and demonstration of the Ving Tsun "sticking hands" drill.
Chi Sao III - A lecture and demonstration of the Ving Tsun "sticking hands" drill.
Chi Sao on Centerline - A seminar on the Ving Tsun "sticking hands" drill.
Chum Kiu - A seminar on the second Ving Tsun form, "Seeking the Bridge."
Dummy - A seminar on the Ving Tsun wooden dummy form.
How to Save Time
How to Teach Ving Tsun - A seminar on teaching Ving Tsun.
The Look of a Kick - A seminar on the nature of Ving Tsun kicks and their training methods, including the chi gerk drill.
Moy Yat Massage - A seminar on Chinese accupressure massage.
Moy Yat 60
Moy Yat's World - A presentation of photos and art from Grand Master Moy Yat's collection and a glimpse of his personal life.
Muk Yan Jong - A demonstration and lecture on the wooden dummy form.
A Reminder
Self-Defense - A seminar on applying Ving Tsun methods and principles to self-defense situations.
Sifu - A discussion between Grand Master Moy Yat and his students about being a teacher.
Siu Nim Tao - A lecture and demonstration of the first Ving Tsun form, "Little Beginning Idea."
Stories of Zen - A telling of kung fu stories and a discussion of Zen.
A Trace of Ving Tsun Roots 1 & 2- A documentary on Grand Master Moy Yat's trip to Hong Kong and Fat Shan.
Tsui Ma - A seminar on the Ving Tsun "moving the horse" drill.
Unstoppable - A demonstration and discussion of thirteen "unstoppable" techniques.
Ving Tsun Essentials - An overview of Ving Tsun stances, techniques, drills, forms, self-defense applications, and kuen kuit (proverbs and lineage).
Ving Tsun Museum, Vol 1 & 2
Ving Tsun Trilogy - A compilation of videos on the first three Ving Tsun forms.
We Are from the Red Boat
Disciple (What Is a Special Student)?
Yip Man - An interview with Grand Master Moy Yat about his Sifu.
Luk Dim Boon Kwan
Nature of Ving Tsun
Relaxiation
Fan Sao
Gerk Jong
and several more...
(Alternate Bio)
Moy Yat was first introduced to Yip Man in 1957, and became one of his closest students. He now has one of the first and largest Wing Chun organizations in the USA. For 15 years, Moy Yat kept a close relationship with Yip Man, living the "Kung Fu Life". It was at this time that he learned from Yip Man the principles and deeper aspects of Ving Tsun. Never far from Yip Man's side, Moy Yat eventually developed into one of his top students.
Moy Yat came to the United States in 1973, where he began teaching Kung Fu in New York City. Moy Yat followed his Sifu's example and used the same method to teach his own students. He instilled upon his students the importance of the "Kung Fu Life", the use of the Ving Tsun principles in everyday life. He always said that Ving Tsun Kung Fu can best be learned outside the classroom. This is how Ving Tsun, as taught by Yip Man, is learned. To his last days, Master Moy Yat lived his life very much in this way, spending his time living and teaching Ving Tsun through "Kung Fu Life". Moy Yat is well respected, both as a Kung Fu teacher and as an accomplished artist. His paintings, calligraphy and stone carvings can be seen throughout his Chinatown school, as well as in art shows which were held regularly in the city. He also carved some of the Wing Chun Kuen Kuit into stone. The Moy Yat Kung Fu Family is quite extensive, with students throughout the world spreading the art of Ving Tsun. His Disciples teach Ving Tsun in their own schools throughout the United States and around the world, including schools in Canada, Brazil, and Mexico. Born in 1938, Moy Yat died in 2001.
Born: Jun 28, 1938 Died: Jan 23, 2001
Last updated: Sep 3, 2015