Bradley Temple
Historical Ancestors > Yat Chum > Cheung Ng (Tan Sao Ng) > Leung Yee Tai > Dr. Leung Jan (Leung Tak Wing) > Chan Wah Shun > Ip Man 葉問 (Yip Gai-Man) > Lo Man Kam > Bradley Temple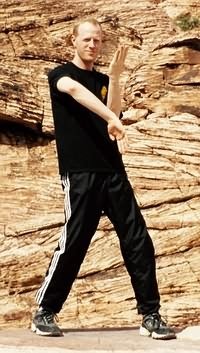 Bio Info:
Bradley Temple began martial arts training at age ten studying Tae Kwon Do. After a few years of training, Bradley decided to pursue his true passion; Chinese Kung Fu. During Bradley's high school years, Bradley experimented with Tai Chi and Bagua Zheng however it was not until Bradley completed high school that he began his formal training.
Read more
Bio (con't)
In 1989, Bradley decided to train overseas in Taiwan with Master Xiao Pong studying Mantis, Chen Tai Chi and weapons. During Bradley's tenure with Xiao Pong, Bradley performed demonstrations aired on Taiwanese television stations and accepted many challenges to enhance his skills. It should be noted Bradley is a westerner and to appear on a Taiwanese TV station was a major accomplishment.
In 1992, Bradley moved to mainland China looking for more Tai Chi experience. Bradley hooked up with Master Chen Peiju who is a 20th generation Chen Tai Chi master. Bradley continued to challenge himself by accepting challenges and touching hands with as many people as he could. While Bradley was under Master Chen Peiju guidance, Bradley competed in the Zhengzhou China International Shaolin Wu Shu Festival serving as captain of the United States team. Bradley was awarded second place overall and was honored to accept the first place medal for best demonstration amongst all countries.
After a few years with Master Chen Pei ju, Bradley moved back to Taiwan to study Wing Chun with master Lo Man Kam. Bradley had heard of Master Lo and his blood relation to a Martial Arts Legend Yip Man and was eager to learn the art of Wing Chun. Bradley lived and trained with Master Lo for five years and his training consisted of two sessions daily six days per week. Bradley moved up in rank rather fast with Master Lo and was accepted as a disciple. Moreover, Bradley was presented the opportunity to assist teaching the class. Bradley considered this a major accomplishment being a westerner teaching native students the art of Wing Chun.
While living in Asia, Bradley embraced the Asian culture. Bradley began by studying Chinese and educated himself in Chinese acupuncture and herbal medicine. Bradley earned his license in Chinese Acupuncture and was asked to translate the English text book version of Chinese Acupuncture written by Dr. Betty Lung. Bradley earned his tuition money by teaching English in Taiwan.
In June 1998, Bradley moved back to the United States and joined the Las Vegas Metropolitan Police Department as a correctional officer in 2000. Bradley is also a DTI or Defensive Tactics Instructor for the department. Bradley is married and has one son.
Last updated: Oct 4, 2011