Chris (Vincent) Damiano
Historical Ancestors > Yat Chum > Cheung Ng (Tan Sao Ng) > Leung Yee Tai > Dr. Leung Jan (Leung Tak Wing) > Chan Wah Shun > Ip Man 葉問 (Yip Gai-Man) > Ip Ching 葉正 > Chris (Vincent) Damiano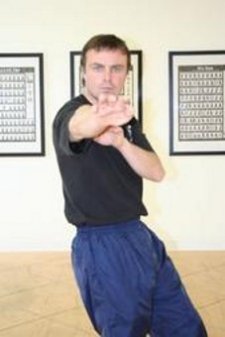 Bio Info:
Sifu Chris Damiano has been doing wing chun since 1994 and is a direct student of Grandmaster Ip Ching. He has been going to Hong Kong every year since 2000 to train with Ip Ching. In 2006 went through the entire system in great detail on how it's taught with Grandmaster Ip Ching. Runs a semi-private school in Destin since 2007 where he passes on Grandmaster Ip Ching's teachings.
Read more
Bio (con't)
Sifu Chris Damiano has been involved in Martial Arts and Combat over the last 27years. Born and raised in Chicago, he worked and managed the Bar and Club scene for 14 years. He has witnessed first hand just about everything that can happen in a real world situation and knows what works and doesn't work in a fight. Sifu Chris Damiano began his Wing Chun training in 1994. Upon watching the demonstration and class he saw the directness, simplicity, practicality, and explosiveness that answered today's combative problems. Sifu Damiano trained rigorously and over a few years became one of the top students.
Sifu Chris Damiano has met and trained with some of the arts greatest practitioners from around the world. He still regularly goes to the UK, Hong Kong, and China to train with his Kung Fu Brothers and attends seminars and events around the world.
Sifu Chris Damiano started training under the youngest son of Ip Man in Chicago, Grandmaster Ip Ching. He was blown away by the power and speed of a man near 70. From there his training took a very progressive turn. He trained those methods diligently and set out for a "deeper" understanding of the art. Later in that same year Sifu Damiano moved to Destin, Florida and taught privately out of his home.
Last updated: Sep 27, 2011