Jeff Webb
Historical Ancestors > Yat Chum > Cheung Ng (Tan Sao Ng) > Leung Yee Tai > Dr. Leung Jan (Leung Tak Wing) > Chan Wah Shun > Ip Man 葉問 (Yip Gai-Man) > Leung Sheung 梁相 > Leung Ting 梁挻 > Jeff Webb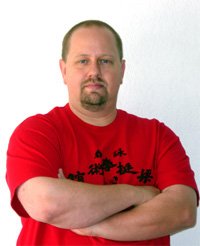 Bio Info:
Webb is one of only two Americans to achieve master-level in the Leung Ting WingTsun system.
Read more
Bio (con't)
Master Jeff Webb (5th Level Practician) is the chief-instructor (Sifu) of Austin WingTsun™ Academy and manager of the International WingTsun™ Association - North American Section (IWTA-NAS, L.L.C.). On December 7, 2005 Sifu Jeff Webb and his San Antonio-based training partner Sifu William Parker, became the first two Americans to achieve the Master-Level ranking in the Leung Ting WingTsun™ system. Sifu Webb has been involved in martial arts since 1983, having begun with Karate at the age of 12. He began his WingTsun™ training in 1985 and is a personal student of WingTsun™ Grandmaster Leung Ting. Over the years, he has also trained with a number of experts from Asia and Europe.
In the early 1990's Sifu Webb enlisted in the United States Air Force and spent 3 and a half years of his service in Germany. During that time he taught and trained as an instructor in the European WingTsun™ Organization (EWTO) in addition to studying with many of the master-level instructors of the EWTO, including Grandmaster Keith R. Kernspecht. Following his return to Austin in early 1996, he began building the Austin WingTsun™ Academy and opened his first professional school in 1997. Through consistent teaching methods and proper management, the school has thrived and produced a number of highly-skilled practitioners. In the Summer of 2004, he opened a second full-time WingTsun™ gymnasium in North Austin.
Since 2000, Sifu Webb has taught more than 70 WingTsun™ seminars across North America in Texas, Arizona, California, Georgia, Indiana, Massachusetts, Montana, New York, Washington state, and Alberta, Canada. Sifu Webb has written articles that have been printed in publications such as Kung Fu Tai Chi Magazine, Austin FIT Magazine, The Good Life; and was editor of the volumous Roots of WingTsun (2nd ed.). He has also appeared in newspaper articles and tv interviews with his instructor, Grandmaster Leung Ting. Sifu Webb is supported by his well-trained team of instructors. Each instructor at the Austin WingTsun™ Academy has undergone years of intense training and is certified directly by both Sifu Webb and Grandmaster Leung Ting.
Being one of the top WingTsun™ schools in the country, you can count on our friendly and knowledgeable staff to work with every student on achieving their individual goals.
Last updated: Oct 4, 2011