Jim Fung Cheun Keung 馮傳蔃
Historical Ancestors > Yat Chum > Cheung Ng (Tan Sao Ng) > Leung Yee Tai > Dr. Leung Jan (Leung Tak Wing) > Chan Wah Shun > Ip Man 葉問 (Yip Gai-Man) > Chu Shong Tin 徐尚田 > Jim Fung Cheun Keung 馮傳蔃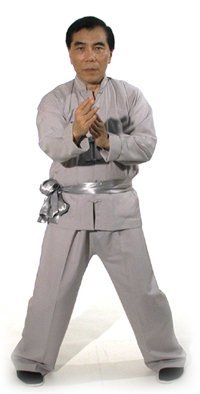 Bio Info:
Began training in 1960 under Tsui Sheung Tin. He is the head and principal instructor of International Wing Chun Academy, established in 1973 in Australia.
Grandmaster Jim Fung (known to his many students as Sifu Jim) was the founder and, until he passed away in March 2007, the Principal Instructor of the International Wing Chun Academy. He is acknowledged worldwide as having been one of the most skilled and knowledgeable practitioners of Wing Chun Kung Fu.
Read more
Bio (con't)
His mastery of Wing Chun's devastating 'thought force' or 'nim lik' is legendary in martial art circles.
An example of this was his famous one-inch-punch, in which his fist - placed just one inch from its target - could send an opponent reeling backwards by up to three metres or more.
Grandmaster Fung was a top student of Sigung Chu Shong Tin, a closed door student of the legendary Yip Man. This lineage prides itself on its adherence to the 'pure principles of Wing Chun' which can be directly traced back to the art's founder, Ng Mui.
In stressing the importance of preserving the system's authenticity to pass onto future generations, Grandmaster Fung often commented:
"There is only one genuine Wing Chun system which is the correct system. Because of the scientific and mathematic basis of Wing Chun's principles, the way it is practised can only be right or wrong. There is no in-between."
Last updated: Sep 23, 2011