John Smith
Historical Ancestors > Yat Chum > Cheung Ng (Tan Sao Ng) > Leung Yee Tai > Dr. Leung Jan (Leung Tak Wing) > Chan Wah Shun > Ip Man 葉問 (Yip Gai-Man) > Wong Shun Leung 黃淳樑 > David Peterson > John Smith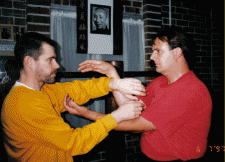 Bio Info:
John Smith has been learning the Ving Tsun system since 1985. It was not until 1989 that John had the chance to do some training with David Peterson in Melbourne, whom John regards as the most knowledgable foreign student to pass on the Wong Shun Leung method of Ving Tsun Gung Fu as mentioned by Wong Shun Leung himself.
Read more
Bio (con't)
It was in 1991 John Smith ventured to Hong Kong, and trained under, whom John believes to be the undisputed master teacher of the Ving Tsun system, the late "Wong Shun Leung". Since that time having travelled regularly to Hong Kong to learn under Wong Shun Leung until his un-timely death in 1997.
In 1992 John Smith founded and named the "Illawarra Ving Tsun School" and continues to teach a loyal following of students.
John is a member and certified instructor that has satisfied the stringent requirements of the Ving Tsun Athletic Association in Hong Kong and The Australian Kung-Fu (Wu Shu) Federation. John is also a board member of the New South Wales, Australian Kung Fu and Wu Shu Federation (AKWF)
John continues to pass on what was taught to him by Wong Shun Leung with out alteration in any way.
Last updated: Sep 3, 2015