Matt Tucker
Historical Ancestors > Yat Chum > Cheung Ng (Tan Sao Ng) > Leung Yee Tai > Dr. Leung Jan (Leung Tak Wing) > Chan Wah Shun > Ip Man 葉問 (Yip Gai-Man) > Ip Chun 葉準 > James Sinclair > Matt Tucker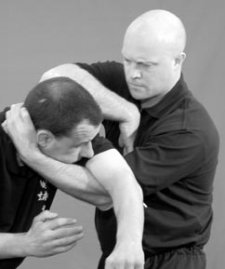 Bio Info:
Having nearly lost his hand as a result of defending a woman the street, Matt adapted his training to deal with the difficulties he faced.
Matt managed to pass two grading levels with good grades, and had potential to move on.
In 2004 Matt visted Los Angeles where he trained intensively in the Filipino Martial Arts. Matt began to concentrate more on his knife and stick work.
In 2006 Matt received 'Dog Brothers' instructor level status under Mark Denny better known by his title 'Crafy Dog' in knife and stick.
Read more
Bio (con't)
Matt retired from teaching and training in Wing Chun in June 2008 to focus on his stick fighting. We wish him well.
Matt returned to training under James Sinclair in Cambridgeshire and Bedfordshire in July 2011.
Last updated: Oct 17, 2011