Chris Kellner
Historical Ancestors > Yat Chum > Cheung Ng (Tan Sao Ng) > Leung Yee Tai > Dr. Leung Jan (Leung Tak Wing) > Chan Wah Shun > Ip Man 葉問 (Yip Gai-Man) > Ip Ching 葉正 > Matthew Johnson > Chris Kellner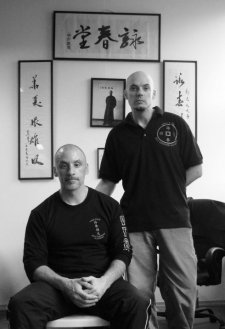 Bio Info:
Chris Kellner has been involved in Chinese Kung Fu since the age of 9. He found Ving Tsun in early 1996. Very much a traditionalist he passes the direct knowledge and philosophy that was passed down to him. In his spare time he has been studying Chinese medicine and Acupuncture since 2004.
Read more
Bio (con't)
Sifu Chris Kellner teaches Ving Tsun for the love of the art and for the enjoyment he gets from passing his knowledge onto his students. The VTMAA runs as a family and for this reason Sifu Kellner screens prospective students to assure their fit into our Ving Tsun family. As taught – kung fu should be taught from the heart and stay true to the teachings so that the tradition can be passed on for the next generation. Chris Kellner is the founder for the Ving Tsun Martial Art Association.
Chris Kellner is a lifetime member of the Ving Tsun Athletic Association in Hong Kong & certified instructor under Matt Johnson Ving Tsun Association.
Last updated: Nov 13, 2011