Ip Ching 葉正
Historical Ancestors > Yat Chum > Cheung Ng (Tan Sao Ng) > Leung Yee Tai > Dr. Leung Jan (Leung Tak Wing) > Chan Wah Shun > Ip Man 葉問 (Yip Gai-Man) > Ip Ching 葉正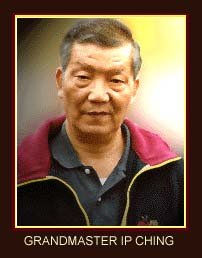 Bio Info:
Ip Ching is the youngest son of the late Grandmaster Ip Man, and was born in Foshan, China in 1936. Many martial art masters lived in Foshan while Ip Ching was growing up, and he started his Wing Chun training when he was about 11 to 12 years old under the close guidance of his father.
When Ip Man left China for Hong Kong in 1949 he took his eldest daughter with him, sadly leaving behind his sons and other daughters with their mother in China. Although practice of any traditional Chinese Kung Fu was banned during the Cultural Revolution, Ip Ching was determined to keep up his training during this fathers absence, so he would stay up late at night to practice his forms right up until the day he left China for Hong Kong in 1962. (after graduating from high school and attending college in Canton China).
Read more
Bio (con't)
When arriving in Hong Kong Ip Ching was reunited with his father, and was happy to resume his Wing Chun training. (In the past it was tradition that when a family had a skill or trade, it would be past down from generation to generation, from father to son). Ip Ching lived with his father and his father's students would come to his house to have private lessons. Watching his father teach gave Ip Ching enormous insight and understanding of Wing Chun and his fathers teaching methods. (Witch he passes on today to his students).
Six weeks before Grandmaster Ip Man passed away, Ip Ching and his elder brother Ip Chun where both present at a historic event at his home in Tong Choi Street. His father knowing he had not long to live and worried that some people might clime secret techniques or modify the forms, endured his illness to commit himself in performing Siu Nim Tau, Chum Kiu and Muk Yan Jong forms to 8 mm film in order to preserve the pure and traditional Wing Chun Kung Fu. (The film then was entrusted to his two sons). After his fathers death the house was passed on to Ip Ching who continued teaching the skills he had inherited, but only part time due to his successful manufacturing company he ran at the time.
In 1994 Ip Ching decided it was time to retire and started teaching Wing Chun full time at the Ving Tsun Athletic Association and privately at his home. Like his elder brother, Grandmaster Ip Ching travels around the world conducting seminars and once again it was in 1991 that Master Samuel Kwok introduced Grandmaster Ip Ching to his students in England for the first time.
Last updated: Sep 3, 2015