Sam Chan (Sam Hing Fai Chan)
Historical Ancestors > Yat Chum > Cheung Ng (Tan Sao Ng) > Leung Yee Tai > Dr. Leung Jan (Leung Tak Wing) > Chan Wah Shun > Ip Man 葉問 (Yip Gai-Man) > Ip Ching 葉正 > Sam Chan (Sam Hing Fai Chan)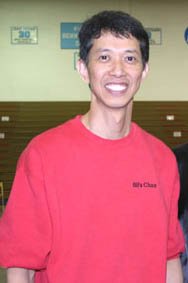 Bio Info:
Sifu Sam Chan has been teaching Chinese Martial Arts in Michigan since 1975, and in 1991 he decided to devote himself full time to his art and opened the doors of Chan's Kung Fu School in downtown Grand Rapids.
Read more
Bio (con't)
Master Instructor Sam Hing Fai Chan began his martial arts training at the age of eight in his native Hong Kong, China. Today Master Chan is an internationally recognized Master in Wing Chun, Jow Ga, and Tai Chi. Additionally, Master Chan holds a 2nd Dan Black Belt awarded by the Chi Yui Judo Association. This year Master Chan celebrates his 35th year of teaching experience in America.
Master Chan believes in teaching by example that martial arts is a way of life. He will accept any student who demonstrates a willingness to learn and who is on a path in life that has heart. Each applicant is interviewed before acceptance at Chan's Kung Fu School. Qualified student receive quality training through personal instruction by Master Chan or one of his certified instructors.
Master Chan's methodology can be expressed as follows: "Kung Fu is more than self-defense or fighting. It is a way of life; it is the Chinese culture, history, and health rooted Eastern medicine and philosophy."
Last updated: Sep 3, 2015