Darrell Carreon
Historical Ancestors > Yat Chum > Cheung Ng (Tan Sao Ng) > Leung Yee Tai > Dr. Leung Jan (Leung Tak Wing) > Chan Wah Shun > Ip Man 葉問 (Yip Gai-Man) > Moy Yat > Sunny Tang (Dunn Wah) > Walter Jakimczuk > Darrell Carreon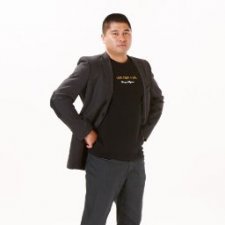 Bio Info:
In late 2000, Darrell Carreon moved to the city of Montreal from Ottawa, where his early experiences and influences were rooted from many areas. From working in a five star hotel to an automotive repair shop or courier messaging, Carreon is well known for mixing music for local night clubs and parties (Disc jockey) since the age of 15.
Read more
Bio (con't)
"I wouldn't have made it here had I not experienced many avenues", Carreon says as he laces up his sneakers before class. "For example, working in a hotel taught me the importance of hospitality. Working in an automotive garage showed me the aspects of fine tuning and efficiency. But it was playing music in the night clubs that ties everything together." He lightly nods his expression for encouragement to students who prepare themselves on the training floor. "Like a dance floor, there's something about controlling a dance floor and it's outcome that sticks to me. People can dance on it, have a good or bad time on it, stay or leave it - but it was all up to me." Carreon focuses his stare on a particular student practicing their stepping and attacking co-ordination. "Today, the dance floor to me is VTMTL's training floor. It's sacred to me, because it's still up to me."
It was in Ottawa when he (age 16) found inspiration in Ving Tsun Kung Fu with Master Walter Jakimzcuk in April 1990. Tae Kwon Do was Carreon's childhood experience, although recreational fighting and sparring was never his interest. Being the avid musical connoisseur and young entrepreneur, he strived to stay out of trouble. In July 2001, Carreon earned his "Sifu" title when he decided to share his Ving Tsun in Montreal after discussions with his Sifu, and his Sitai-Gung - Grand Master Sunny Tang. It was the beginning phases of Sunny Tang Ving Tsun Montreal (VTMTL). During the humid summer of 2001, Carreon taught Ving Tsun to merely five students in an outdoor park - charging a fee that entailed at least one "cheap" dinner a month instead of money. Carreon started teaching Ving Tsun Kung Fu at age 25.
In March 2002, Master Jakimzcuk accepted Carreon as one of his first disciples. This reflects the tradition Master Jakimzcuk upholds as a disciple of Master Tang within Grandmasters Yip Man / Moy Yat's lineage. Carreon continues his personal mandate to produce quality "grand students" for his Sifu, as a token of his appreciation. He understands that it may be a lifetime of hard work to achieve such a goal.
In November 2011, Carreon expanded into a new location to celebrate VTMTL's ten year anniversary. He has succeeded one certified instructor, Alexander Felix (Andy), with several others in the making for 2012. In 2011, Felix started his own club "VTMTL - The Felix Group" in Montreal. Carreon also opened a club in Mirabel, QC in 2011 under the VTMTL name, but is currently operating as "private".
Today in 2012, Carreon has privately taught over 300 students after a decade, and has nearly 60 students actively training. Carreon's motto, "If I can't remember your name, our classes are too full". He continues his highly available schedule for five years running - five private classes a week (three hours each) in the heart of Montreal. He continues working full-time in the same corporate technology environment since he relocated to Montreal.
Born: Apr 19, 1975
Last updated: Sep 3, 2015